What our customers are saying about
Lopez Advanced Automotive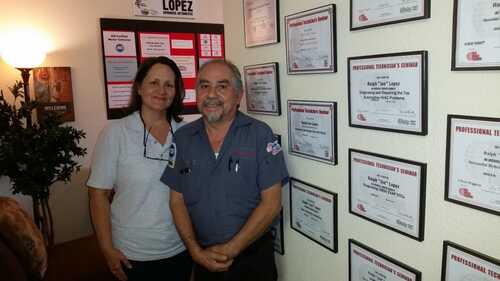 Joe has looked after our SUV since we found him about 3 years ago, he has proved to be honest, dedicated and highly competent. I recommend Joe very highly
The oil cooler in our motor home needed to be replaced. A friend recommended we take it to Joe Lopez. We were very happy with the results. Excellent work, very fair prices. We highly recommend Joe for any and all mechanical repairs.
Just moved to Casa Grande. A car I recently purchased had an 'issue'. I brought it to these folks, and bottom line; I just found my 'mechanic'. Straight up, no messin' around, totally kept informed of what was happening and less $ than I anticipated.
I trust you guys with all my heart for mechanical needs! So, do you guys know any one seeking a vehicle really inexpensive right now? Thought I'd ask since you're some of the most trustworthy in town! :)
I took my 2006 Jeep Wrangler to Lopez automotive because the engine light came on he Explained the problem and fixed it now today he's doing all change and seeing one of the headlights was out and I told him to fix both I would not take my Jeep anywhere else in town or out of town he runs a talk to Lauren business and I have worked for automotive shop before thank you very much Joe Lopez I hope you and your wife and family and staff have a wonderful Christmas and a happy new year The Knapp's
I am so blessed to know Joe and his lovely wife.I have never had the pleasure of such a caring,honest and knowledgeable group of hard working people.Joe has gathered a great staff and continues to amaze me..in these days..people like these are hard to come by.
Joe is straightforward and honest about car repairs. Work is done in a professional manner. Joe is very good at explaining what needs to be done.
First time there for my oil change. Very friendly, will come back again.
I live in Phoenix but work in Casa Grande. I had a major repair done at Lopez, and the service couldn't have been better and more reasonable. I highly recommend.
Joe's automotive shop is the best place to go to in town. He is talented, honest, and professional. Highly recommended!
Lopez Advanced Automotive is one EXCELLENT place to have your car serviced. The Lopez family is honest and straight-forward. Great service.
Joe's automotive shop is the best place to go to in town. He is talented, honest, and professional. Highly recommended!"